Body Position & Knee Down Class for Sport Riders
Truly not just designed to make you look like Marc Márquez, or just for a picture on turn 2 at Laguna Seca Raceway--no, this is the full scope of Hanging-Off to be able to play an A-game. While mostly focused on mid-turn body positioning and knee-dragging, our class covers it all, from A to Z. Others might teach on what they believe- or saw which is supposed to be right, but your coach, Can Akkaya, was an international racing professional who knows what's right and how to transfer that knowledge to his students.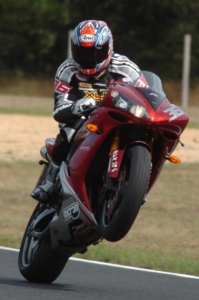 Suitable for
Track day riders of all levels
Racers of all levels
Sport bike street riders from upper intermediate
Race, track, and sportbikes
Importance of doing it right
The geometry of modern sportbikes and their tires work in conjunction with the rider's body weight distribution. This has evolved and developed over the last three decades in international motorsports. We've seen lots of misinterpreted priorities and wrongly taught techniques, which we decided to put to an end through this course. This subject is pretty 'head-heavy' so that it actually could extend a learning curve being taught wrong. Superbike-Coach has developed a class which clears up this subject, and is also extremely efficient because of its location. The Little 99 Raceway in Stockton, California gives our students and instructors great options to teach and learn. Coach Can Akkaya can observe and stop you whenever necessary, to give you feedback, drills, tips, and demos that you can immediately apply while he watches. It doesn't matter "how long" a track is, but rather how quickly your coach can deliver what he believes you need. Furthermore, the cost of being on a smaller track is significantly less and the risk of costly damage and injuries are lower.
NO track fees, but FREE stuff
Our team is ready for you. No hidden fees, but free of charge sport photography, water, and snacks. Come with up-to-date sport riding gear and an open minded attitude. You won't get more bang for the buck than with Superbike-Coach and on our challenging race track.
How it works
The Body Position & Knee Down Class splits your time into a 50:50 track/classroom ratio, starting at 09:00 am and ending at about 04:30 pm. The morning hours are going deep into body positioning where you'll be learning all about real MotoGP riding styles. After lunch, the challenge will be to finally get that knee down on the asphalt in our ovals where you also get to use the Superbike-Coach mini bike.
There are many subjects covered in regard body position and to hanging-off. As a prerequisite to this course, however, we expect you have at least upper- intermediate level in regard to line choice, counter steering, and trail braking. If not, then you actually should take advantage of our popular Cornering School program. You'll be surprised how much there is to learn to do 'body positioning' and to drag that knee right!
---
1-on-1 or small group coaching available
If you want your coaching more personalized- this class is also available as 1on1 or for small groups. The scheduling is also individual, but during weekdays only. The coaching fee depends on headcount: 1 $279, 2 $260, 3 $240, 4 and up $220. There will be also a additional track fee which will be divided by headcount. Click here and let us know your plan to set this up.
Includes track fee $189
Click 'Book Now' to see available dates
MotoGP style riding

Transitions & Planning
Knee Games & Timing
Energy Management
Chase knee in oval and on mini bike
Advanced Hanging-Off
The Body Position & Knee Down Class is for the intermediate to advanced track day riders, racers- or Sportbike street riders. No previous SBC classes are required. Classroom and track sessions make you understand procedures and priorities.
NEED A RENTAL BIKE?! We can help you out. Rent one of our pool bikes which comes with gas, race tires, and transport. The fee is $190, and an optional insurance of about $85 which covers you to max $700 in damage, no matter how bad it is. Of course you can bring a cheaper 3rd party rental, but you won't have that insurance, and no transportation to our track. Just opt it in the booking process.