Have Superbike-Coach on your Sideline
At a certain level the usual 1on1 coaching is hardly practicable, and sideline coaching becomes inevitable. But this concept has more advantages. Your coach doesn't has to take care of his own riding preparation by having more time to focus on priorities... you! It is easy to set up; We come to your track- or race day to coach you sideline. No extra costs to have your coach riding with you. Goal-orientated private or group coaching instead.
Scope of Service
Six to seven theoretical sessions, depending on your track day structure.
Performance check, bad habit removal
HD Video analysis
Lap times analysis
Lines, braking, G-force anaysis via GPS Data Log (no purchase required)
Race strategy and preparation work out
Offensive and defensive skills
Sena radio connected (if possible)
How it works
We come to meet you at your track day- or race day and work with you guys all day long. Your 'sideline coach' is watching you as much as possible, each track session you're doing. We will place on your bike one of our GPS Data Loggers, or you use your own, to analyze your lines, your braking, lap times, and G-forces for each stint. It's a great tool for the coach to see how everyone is doing on the other side of the track.
The coach observes and corrects passing skills and general performances and makes 'adjustments' step by step. You'll gain control, coolness and accuracy, which finally leads to lower lap times. Superbike-Coach is great to address fears, mental and motivation problems. Optional, he also can work with you on a race bike setup. You can't get to work more reasonable with a professional as with this option.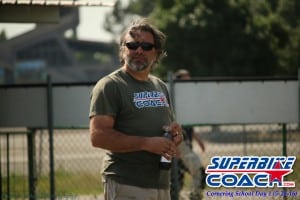 Excluding Travel $279
Click 'Book Now' to start the scheduling process
After booking we will evaluate with you when and which track we go. You need to cover in cash at first meeting coach's travel expenses (download the calculator)
The 1on1 Sideline option is highly recommended for -Level track riders and racers. We can help a racer tremendously in terms of race performance- strategy- and analysis. You won't believe what influence we have in your results!
A small travel fee applies. We don't hide anything. Calculate it yourselves: Fee Calculator