We teach you MotoGP riding techniques on the race track
Improve your track day or racing skill with Superbike-Coach on a race track. Get safer by being faster. We can help riders of all experience levels, the Coach will be there for you. His students from all over Europe ranged from track beginners to licensed racing pros. As a chief instructor of a racing school, he knows how and what is required to work with the students.
The coaching is very structured. You have up to seven track session of 20 minutes each, together with your coach of course. Between these track sessions you'll learn MotoGP riding techniques in step-by-step lessons directly from your coach. Depending on your skill set and coach's suggestions- he goes from there to make you faster by gaining safety.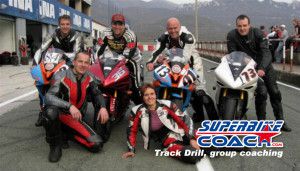 Small Group Coaching
... is the most reliable way to get on a race track with the "Superbike-Coach" because you can share some costs with other students. Group coaching does not have the same intensity of an individual training session, however it is challenging because there is a lot more to learn and you only have one day to take it all in. The Coach is skilled at working with nearly all types of riders and in one session he can bring out the best in you. He adapts to your skills and gives you the right advice for your improvement. Depending on the strength of the group, Coach can also record you with his HD video equipment and give you an analysis. Overall, you learn in a nice environment, you learn more about high performance riding. You experience how it should feel being a racer: some of Can's students are licensed and successful racers today! This experience is great and is something you can take and use in the way that benefits you the most.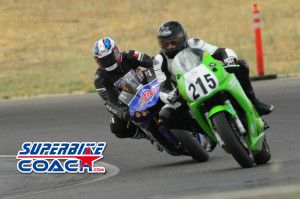 1-on-1 Coaching
...is recommended to everybody who really want to be the better rider... from the rookies to the licensed racers who miss the nuance. Can has trained a lot of enthusiasts in Europe who wanted more, many of whom are successful racers today. You could be next! His intense feeling for your skills will give you the personalized lessons you need to be a better track rider. The same sense that will give you the confidence and the motivation for the kick ass riding abilities you are looking or. You'll get a video, taken with Can's HD video equipment and an analysis by an experienced European championship pro. This is real practical hands-on training. We borrow you modern GPS technology. We analyze your Lap times, Split times, and Ideal lines via GPS (No purchase required!). The 1on1 coaching is all about YOU and your needs.
---
Track Drill Tickets starts at $290
By clicking 'Book Now' you'll first see all available dates/locations:
We do maximum 1-on-3 with this option. That keeps personal attention high, and costs can be shared with the other students. Date and location are totally individual and availabilities will be discussed with you directly right after booking. Additional track fees apply (between $120 and $270, depending on the track we're taking).
Track Locations
Sonoma Raceway
Laguna Seca Raceway
Thunderhill Raceway
Little 99 Raceway
Buttonwillow Raceway
NEED A RENTAL BIKE?! We can help you out. Rent one of our pool bikes which comes with gas, race tires, and transport. The fee is $190, and an optional insurance of about $85 which covers you to max $700 in damage, no matter how bad it is. Of course you can bring a cheaper 3rd party rental, but you won't have that insurance, and no transportation to our track. Just opt it in the booking process.